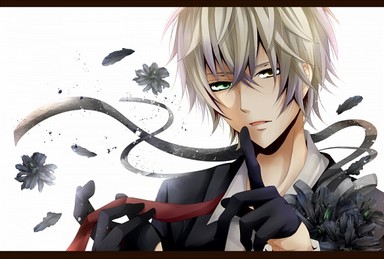 Application of Valentine, Vertigo*
Identity.
Name: Vertigo Valentine
Gender: Male
Day of Birth: July 23
Age: 18
Height: 5'11
Weight: 81kg
Class: 1A/1B
Persona.
Casual Appearance:
Vertigo has broad shoulders, hard chest, and average muscular size. He has a distinguishable sharp gold eyes, silver-blue hair and a very nice bright smile. It is his best trait. He usually wears black clothes often sleeveless shirts and loose or baggy pants.
Personality:
A charming guy who loves to please girls. He always wears a smile and rarely gets angry. But once he does, he's a completely different person. He can sometimes be too obssessed with something and sometime possessive. He is something like a prince type, resembling Tamaki in the anime.
Likes:
Girls' blushes, roses, sweets, peaceful places
Dislikes:
People who disadvantages others, guys who hurt girls, cowards, Math
Fears:
feeling hated or secluded by other people, sea urchins
Background.
Family: Mother, Father, younger brother
Hometown: France
Past:
Being part of the Valentine family meant wealth, no matter which side you came from. Vertigo's parents were corporate conglomerates, his father ran the Valentine's corporate division and as a business deal, his mother (originally from one of the competitor companies) was married into the family. They didn't have a choice, a forced, loveless marriage to merge the corporations and create one giant powerhouse. To keep up the standards, Vertigo was born, thus creating the "perfect" corporate family. The only dream his mother and father shared was Vertigo following in their footsteps. Little did they know how their lives would affect him.
Stuck in a sham and with a husband always away on business, Vertigo's mother became bored. She would leave for shopping trips and drinks with the girls, only to (more often than not) bring random men home or not come home for days at a time. With his father gone most of the time and being home schooled for most of his youth, Vertigo was left alone with the maids and his tutors, watching his mother nearly day in and day out. He had no friends, with the exception of his cousins whom he seldom saw due to the strict study routine he had to follow. There was no one to turn to and nowhere to run.
Almost through his sixth year of school and in need of some freedom from the house, Vertigo made a bold move and demanded to be allowed to attend a school. Both of his parents reluctantly agreed, but only if he attended Ouran High School like the rest of his family. From that point on, Vertigo began to lead a life of pure gentleness. He became the opposite of his parents and promised to cherish every girl's wish.
Additional Notes:
Vertigo is good in performing several magic tricks.
He can play the bass guitar, a little of piano and violin
He is physically well-built - an expert martial artist in a national level.
Who did you PM?: Kuro Hatori
© Ame Hikari on Ouranation.forumotion.com