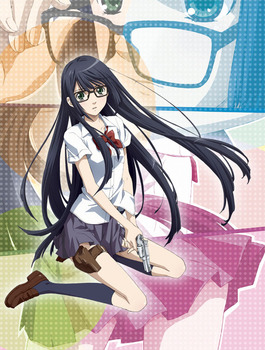 Application of Sakurai, Kimiko*
Identity.
Name: Kimiko Sakurai
[Real name: Vasilisa Severinov]
Gender: Female
Day of Birth: Feb 29
Age: 17
Height: 5'4
Weight: 99lbs.
Class: 2A/2B
Persona.
Casual Appearance:
Kimiko has a slender but curvy frame. She has an ample chest that is slightly bigger than most, perfect waist, and plump bottom. With dark blue hair that is almost seen as black and blood-red eyes, she can host a variety of look ranging from fierce to innocent or sporty to classy.
Kimiko is very fond of Japanese fashion and has a particular love for skirts/shorts and highsocks/boots combination. She is also inclined to accessories except rings. Because of her shortsightedness, she is often seen wearing glasses. She uses contacts rarely, usually during physical activities.
Personality:
Kimiko is moody and her mood depends on the person that she's associated with. She's particularly sweet to those who's nice to her, but hellish and annoying to rude, show offs, or plain cold people.
Having said that, Kimiko is very bold and daring; very straightforward as well. She stands for what she thinks is right even though it's not. Her value for freedom leads to her often reckless, dangerous or even rebellious behaviour. Despite that though, she respects rules and acknowledges boundaries.
Kimiko often acts strong and stern, but is actually very weak emotionally. She is easy to cry and get scared, especially if exposed to her weaknesses.
Likes:
Piano, rollerblades, Japanese food, bubblegums or lollipops, humourous people
Dislikes:
Backstabbers, insects, rude people, arrogance, any other sports except Karate
Fears: paranormal, caterpillar, lightning
Background.
Family: Mother, Father, Older brother, older sister
Hometown: Moscow, Russia
Past:
Kimiko is the youngest of three siblings from a well-off family. Unlike her older sister who has the typical ojou-sama nature, Kimiko had a boyish attitude when she was a child and a great sense of adventure. She secretly stopped ballet lessons and enrolled in Karate instead.
Originally living in Russia, Kimiko took fond of Japanese culture at a young age which she learned from her Japanese mother. After her parents' divorce, she decided to migrate to Japan (with their knowledge) and continue her studies there, changing her name in the process.
Additional Notes:
Kimiko speaks Russian, French and English fluently but is having difficulty with Japanese.
She is a 5th Dan in Karate.
Who did you PM?: Kuro Hatori
© Ame Hikari on Ouranation.forumotion.com